The ICM staff are on hand to provide you with information and guide you throughout your treatment. Welcoming you in the best conditions is one of our priorities.
On your arrival, you must register at the reception kiosks in order to indicate your presence. The admissions staff will then call you to put together your file.
Admission times
Monday - Friday: 8:30 am - 5:00 pm (Building A), 8:00 am - 5:30 pm (Building B), 8:30 am - 5:00 pm (Building D)
Saturday: 9:00 a.m. - 4:30 p.m. (Building A)
Sunday: 10 a.m. - 5:30 p.m. (Building A)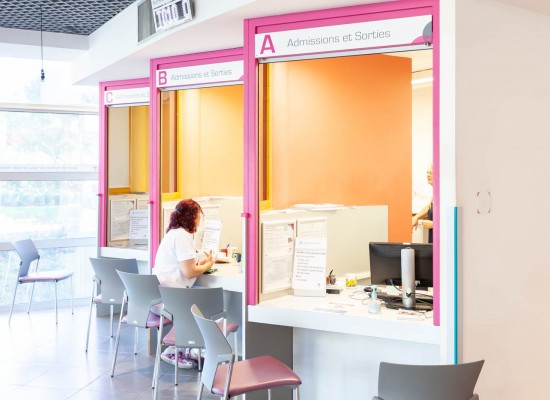 An identity document: identity card, passport or residence permit. These data will be used for your identification throughout your stay.
A European Social Security card or an S2 form, for citizens of the European Community, or copy of private insurance.
Your medical file if you have one, otherwise your doctor's letters.
X-rays, ultrasounds, scanners (on films or CD-Roms), the results of medical examinations and biological analyzes, the results of any examinations carried out previously, as well as your medication prescriptions.
Your hospitalization requires the establishment of an estimate taking into account the indications of the ICM doctor and the payment of the amount corresponding to the expected accommodation costs.
If you do not have social security coverage, or for any information, please contact +33 4.67.61.30.86
Additional information to be provided
Person to contact
This is the person you want to notify in case of need.
The person to be notified and the person you trust can be one and the same.
Confidential arrival
Do you want total discretion in your presence within the establishment? Report it upon arrival to admissions staff or healthcare teams so that your request can be taken into account.
Exit formalities
Your exit is authorized on medical advice. You will be asked for a discharge if you leave against medical advice.

Before your departure, please present yourself beforehand and imperatively at the admissions office to complete the exit formalities.
Before leaving the establishment:
Check that a future consultation or hospital appointment has been scheduled.
Take your x-rays and test results again.
Collect all personal belongings in your room and in the safe.
Return the books on loan