Outpatient hospitalization
Outpatient surgery service
For some procedures, you can arrive at the ICM and exit the same day after the procedure. This type of hospitalization is very comfortable since it allows you to go back to your loved ones and your usual environment the same evening.
This option is only offered if certain conditions are met. In particular, the healthcare team will make sure that you are not left alone at home after the procedure.
The ICM Outpatient Unit now has 12 places.
Ambulatory medicine service
This service is made up of 8 beds intended to receive patients under medical care with treatment during the day and 4 beds reserved for patients requiring the intervention of a supportive care team (algology, nutrition, oncogeriatrics…).
If the state of health requires it, conventional hospitalization may be offered.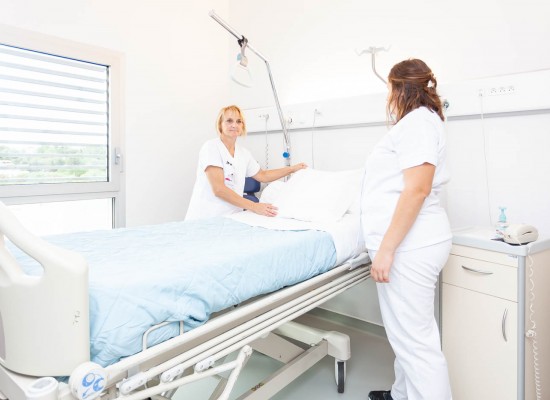 Your stay is in a room with one bed or two beds, enjoying all the comforts of a modern establishment. The allocation of a particular room will depend on availability in the department. If you have a private room, it will be billed to your insurance. Please bring the bathroom and night linen essential for your stay as well as a bathroom kit.
On arrival, a bottle of water is provided for you. The Hot Point shop in building A offers basic necessities.
Each room is equipped with a color TV and free Wi-Fi.
Personal effects and valuables
Personal effects and valuables
A safe is available in each room. An explanatory note will guide you in its use. The ICM is not responsible for any theft that may occur during your stay.
It is advisable not to carry large sums of money or jewelry.
Your dental and hearing prostheses, glasses or contact lenses are under your responsibility. An identified box may be offered to you by the healthcare team.
Several treatments can be administered over a day. This is the case with outpatient chemotherapy, for example. The patient then has an appointment and once the treatment is finished, he can go directly to his home. The ICM has 36 places in day hospitalization.
The nature of the medical care will determine the type of hospitalization offered. Each of them requires specific procedures. The medical staff at the ICM will guide you to prepare yourself properly.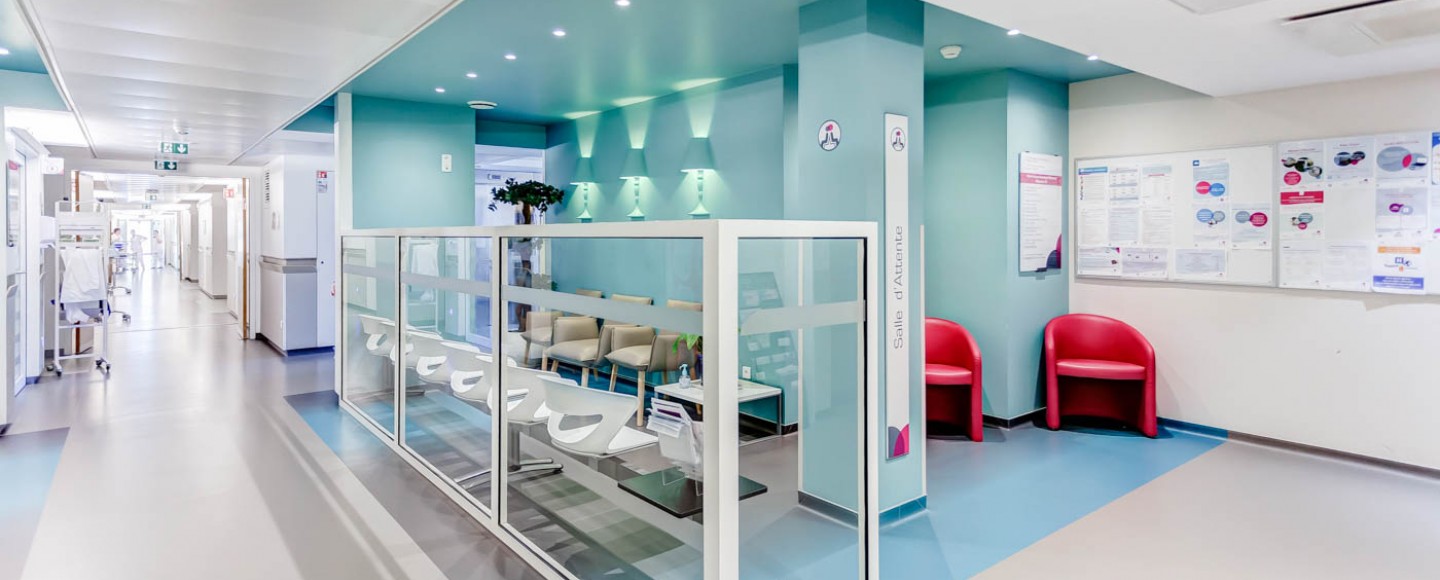 Accompanying persons
If you are in a private room, the presence of a loved one may be authorized by the medical team. In this case, a bunk is made available to you free of charge.
Visiting times
Visiting hours are free (24 hours a day except for Continuous Care from 11:30 am to 8:30 pm) and left to the discretion of patients and visitors in strict compliance with care and medical requirements.
Need an interpreter?
The establishment has drawn up a list of employees who could be your interpreters.
Contact the reception or the care services.
Staff are identified by name and function on an identification badge. Throughout your stay, you will be required to meet the various members of the medical team (doctors, heads of clinics, interns, etc.) and of the healthcare team (health manager, nurses, caregivers, hospital service workers, manipulators, stretcher bearers, etc.).
They are at your disposal to meet all of your needs.
On your arrival, you must register using your 'carte vitale' at the reception terminals in order to indicate your presence.
The admissions staff will then call you to put together your file.
Learne more about administrative procedures
The ICM has two main reception points:
One is located in building A (avenue des Apothicaires):
From Monday to Friday, on-call duty is provided by the reception staff
from 7:30 a.m. to 8 p.m. Weekends and holidays from 8:30 a.m. to 6 p.m.
Outside of these hours, reception is provided by a security guard.
The other reception is located in building B (rue de la Croix verte):
From Monday to Friday, on-call duty is provided by the reception staff
from 7:30 a.m. to 6 p.m. 
Outside of these hours, Reception B is closed.
The main entrances to buildings A and B are closed at night between 10 p.m. and 5 a.m. However, access is still possible outside of these opening hours. Intercoms equipped with a "CALL" button connected to the security service are placed at input A to activate the opening of the doors on request.
The reception staff are at your disposal to provide you with information, guide you or collect all your comments and suggestions.